Connect Foods Probiotic Spreads
Connect Foods Probiotic Spreads are our new range of delicious dairy free spreads, with 200 million CFU per serve. This makes getting your daily helping of gut healthy probiotics super-easy whether it be on your morning toast or in your baked products.
The range includes both Buttery and Original Flavours which are both available NOW at your local Coles store.
Chocolate Fibremax +Probiotic
Introducing our newest addition to the Connect Foods family!
Adding Fibre to your day has never been easier or tasted better. Connect Foods Fibremax Chocolate contains Organic Psyllium Husk Powder with Cacao Powder and Probiotics to give you a deep, rich, chocolate taste with probiotics and an excellent source of fibre.
We use Ganeden's patented BC30 Probiotic (Bacillus coagulans GBI-30, 6086). It is a shelf-stable probiotic strain that has been shown to provide digestive and immune health and assist protein utilization. It is natural, vegan, non-GMO & used in over 900 products worldwide. https://www.ganedenbc30.com/health
Fibremax is available at Woolworths and Chemist Warehouse nationwide.
Pink Himalayan Salt Pumpkin Seeds
Connect Foods Pumpkin Seeds are the ideal nutritious snack. They are a good source of protein and also contain iron, magnesium, and zinc. They are roasted to perfection with just the right amount of Pink Himalayan Salt to tickle your tastebuds and keep you coming back for another delicious handful. Enjoy them straight out of the pack or as a topper on your salad or soup.
Available at Woolworths nationwide
Cocoa & Sea Salt Pumpkin Seeds
These cocoa & sea salt pumpkin seeds are the perfect snack for when you're looking for a bit of a chocolate fix with a healthier twist! They satiate that sweet craving with a satisfying crunch that keeps you going back for the next handful. Enjoy on your smoothie bowls as a topping, or mixed with your favourite muesli, oats, or yoghurt.
UPDATE (Sept 25, 2019): PUMPKIN SEEDS ARE BACK!! Our new 125g pack-size for Connect Foods Pumpkin Seeds have just been launched into Woolies nationally together with our new Roasted Black Bean range. Check them out!
Available at Woolworths nationwide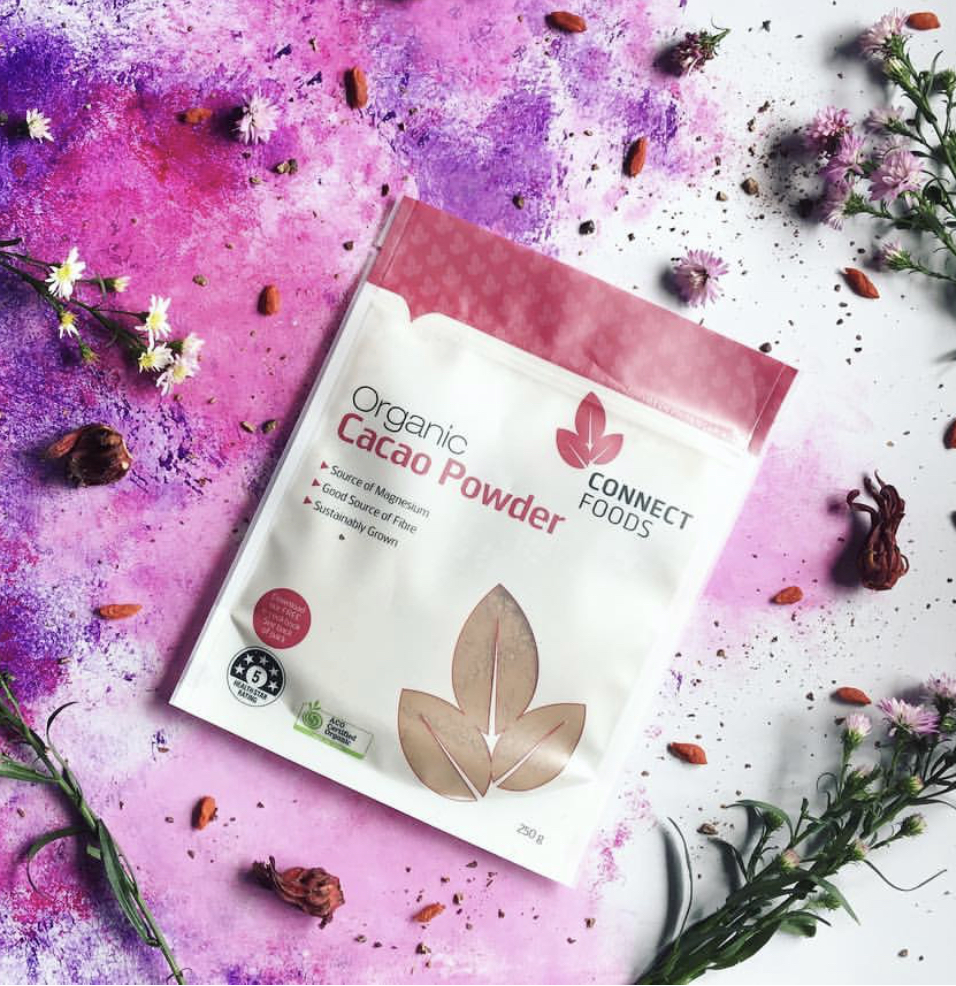 Connect Foods organic cacao powder is great to add into smoothies and drinks. It is a great source of magnesium & fibre and is sustainably grown. Add into your smoothies for a delicious chocolate flavour, or make your own raw chocolate!